*To cover all legal schmegal bases: I may receive a commission from purchases made using links found in this article and around this site. Particularly, as an Amazon Associate, I earn from qualifying purchases, at no cost to you.*
I never really considered microlink extensions (sometimes called microbead extensions) for my hair, but last July, I found myself in a bit of a predicament. I was standing up in a friend's wedding and I just knew my hair wasn't going to make the cut when it come down to the hairstyles the bride wanted. I simply didn't have enough hair to do a decent updo, and no amount of Toppik or teasing was going to change that. I began looking into some hair extensions options for thin hair and learned that microlinks were probably the best option. I wish I had taken pictures, but back then, I had no idea I'd eventually be writing about this. 🙂
Update: Want to know what I hands-down recommend for fine and thin hair? Check out my review on this awesome, remy human hair extension system! There's even a discount, hint.
How Do Microlink Extensions Stay on Fine, Thin Hair?
The microlink extensions are basically plastic beads that contain some sort of coating on the inside (silicone?) that helps it to grip to your hair. I think you can get links without the coating, but the coating is recommended for fine/thin hair because it helps the bead not to slip.
The Cost of My Microlinks
You can get extensions in both synthetic and human hair – the salon I went to was able to get human hair in a color close to my natural shade; it took about a week and the cost was about $150 for the supplies. Labor would cost $100, for a total of $250. I have NO IDEA what brand or where my stylist got them from. In fact, when I asked if they could be dyed, they told me it wasn't recommended. I didn't know much about supplemental hair at that time but I knew that sounded weird, since you should be able to treat human hair extensions just as you would your own. I wasn't considering them for any long-term use, though, so I really didn't care. All that mattered to me was that I'd be able to wear them and have them curled/flat-ironed, which you can do with human hair (and some heat-defiant synthetic options).
I ordered 50 of the microlink extensions, but only ended up using 40 of them. It took about 45 minutes to put them into my hair. Basically, a small portion of your own hair is placed through the bead along with the extension. The micro link is then pinched shut with some sort of tool to so that it stays on your head. You'll need to get them adjusted every six weeks or so — the beads need to be moved up your existing hair to accommodate for growth.
Here is what they look like. You can see the tops of them; one of them even has the bead still semi-clamped on it (I may or may not bite my nails):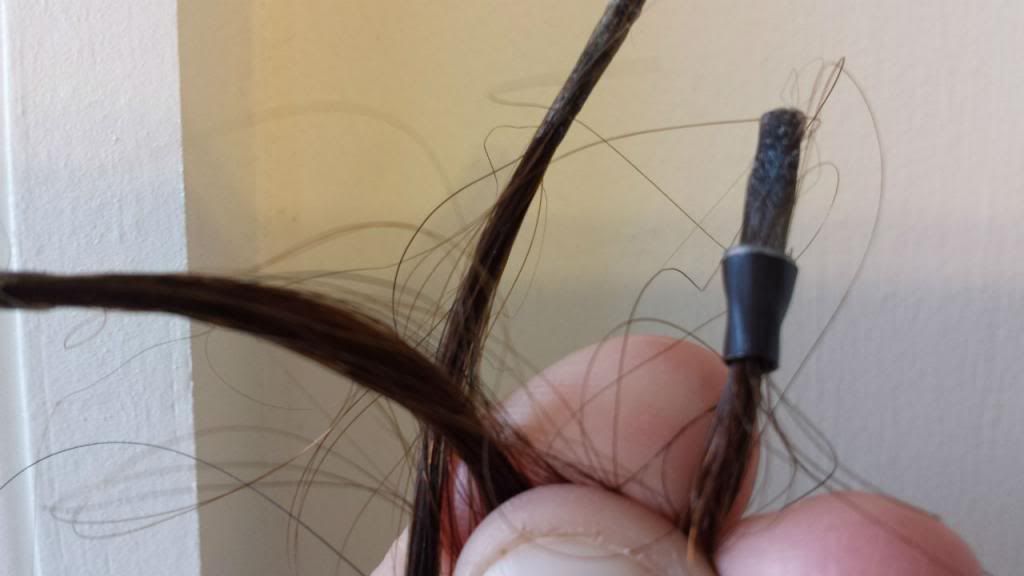 My Microlinks
All In All, Did Microlink Extensions Make My Thin Hair Look Better?
I have to say, the microlink extensions worked out pretty well, even on my yucky fine, thin hair. I had them in for approximately one month, and in that time I only had two that came out. This was likely due to my styling, as it was hard to get used to brushing and blow-drying hair that only has the top part "free".  There were plenty of times where my brush caught one or two of the microbeads, and OUCH, it hurts!
Here I am with them right after I got the microlink extensions installed — I think this is the only pic I have of them with my hair down. Isn't my son cute? 🙂 I wanted to show you how well they blended. And yes, I do have my concealers on, too:
And here is me at the wedding that I actually got them for. They totally helped my hair to look better, especially in an updo. The girl who did my hair was able to hide all the beads under my own hair. I was concerned about this since my hair is so thin, but you couldn't see them at all.
Would I Get Microbead Extensions Again?
Honestly? Nope. I loved the way they helped my hair to look fuller on the bottom, but if you are experiencing hair loss, they obviously can't do anything to help what's on top. Also, when you have so little hair available to cover them up (I do a deep side part so I'm talking on the side that doesn't have as much hair), you get paranoid thinking everyone will see them as soon as the wind blows. Ironically, no one EVER knew. Not even my husband–and he still doesn't know, to this day!
(What I would do instead? I tried this Tressmerize system, which is remy human hair extensions plus an optional topper…it works BEAUITFULLY on my thin & fine hair [check out my pics!]. I even have a special discount for ya!).
Side note: I highly, I mean HIGHLY, recommend Big Sexy Hair Root Pump Plus Mousse to add more oomph up top. I can't tell you how many comments on this blog and via email I get thanking me for recommending this miracle product, which I talk about in my "how to add major volume" post. It's hands-down awesome for adding volume and thickness at the crown/root. Perfect on its own and for pairing with extensions!
I used to love how my hair would look in a ponytail, though. I'd often wear it in a low chignon and it looked simply adorable. But wearing it down was always difficult. Because the microlink extensions start a bit above the ear, they cut into the hair I was able to tease in order to achieve extra body. Not a huge deal if you just have thin or fine hair, but if you have hair loss and need to use every trick available to hide it, this can be a problem.
I will tell you that they didn't cause my hairloss to get worse; of course, my loss is on the top of my hide and not on the sides/perimeter. They never felt like they were pulling or tugging, which was nice; they were surprisingly comfortable, even to sleep.
So, what do you think? Are microlink extensions for your own fine/thin hair in your future?
Be sure to check out my post on micro loop hair extensions, too.
Note: While I really liked my microlinks, a good choice for those that want to try them themselves would be a clip in option. This medium brown color would work for me, but they sell them in a bunch of different colors. I'm very familiar with these types of pressure-sensitive clips; they stay really well, even on my fine hair. These would be easy to throw in your hair, clamp down, and go. Plus, if they are too tight or not quite right, they would be super-easy to adjust. If anyone has tried these, let me know. They have pretty good reviews, too, and look promising!