*To cover all legal schmegal bases: I may receive a commission from purchases made using links found in this article and around this site. Particularly, as an Amazon Associate, I earn from qualifying purchases, at no cost to you.*
Note: I know this post contains photos in which the link has expired. I'll try to get these back on, if I can find them, someday!
Pregnancy and hair loss…does pregnancy affect your hair at all? When I was pregnant with my son in 2010, I lost a TON of hair. If you'be been following this blog at all, you know that I think pregnancy really expedited my hair loss. From almost the time I got my positive test, pregnancy and hair loss went hand-in-hand. I don't typically lose my hair (I'm not a shedder), but almost immediately I started losing a ton of hair. I started to notice it everywhere. I would watch in horror as it would twirl down the shower drain. I noticed it, especially, when I would apply hair product throughout my hair. My hands/palms would be covered in hair. Granted, at this time, I was only wearing my concealers intermittently, so it wasn't as alarming as it would be if I was having the same thing now. For whatever reason, the pregnancy and hair loss relationship (ha) stopped at around 20 weeks, and then normalized. I didn't experience any real shedding until I had the normal post-partum shedding around four months after giving birth. Um, that was not fun and is a different story for another time. At least that pregnancy and hair loss story is normal; most everyone experiences that. Except those women who have such thick hair they claim it never happened to them. Jerks. I say that with love, of course.
Pregnancy and Hair Loss: Round Two:
Fast forward to this pregnancy. You all know what my hair looks like now, and that I need to wear my Bumble & Bumble hair powder to hide my hair loss every day. I was terrified that I would experience hair loss in my first and second trimesters, just like I did with my son. This time, though, was different. I didn't experience any hair loss at all! My hormones must be more "in check" this time, for whatever reason. So far, I've also been spared the cystic acne on my jawline that I was plagued with, too. I'm currently 25 weeks, so hopefully this "trend" holds out (OMG, am I having a girl? Clearly I am not the best candidate to do braids and stuff).
However, there has been a change in my hair. Since I've been off Spiro and Rogaine, my hair is definitely not coming in as thick as it was. "Thick" is a subjective word to those of us with hair loss, however. My hair was never thick to being with, but it is definitely more miniaturized now. I'm not sure if it's the lack of Spiro or the Rogaine (or both), but my hair is getting worse.
Et voila: Pregnancy and hair loss at its finest. Grr.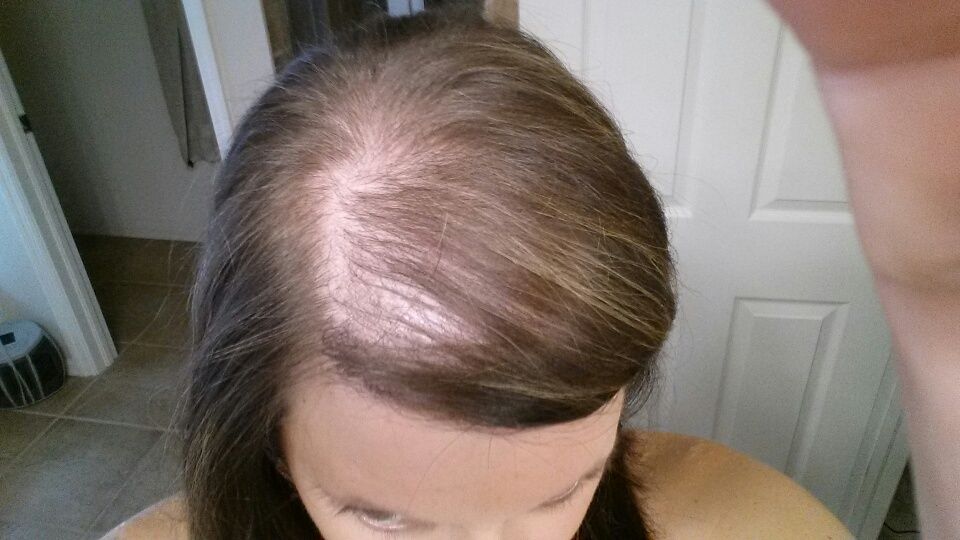 Yeah. Not fun. Blah.

This actually makes me more and more mad each time I look at it. I'm chuckling under my breath at how ridiculous that sounds, but I know you know what I mean. All we ever hear when it comes to your hair while pregnant is how thick and lustrous is becomes. Lies, all lies! With both my first pregnancy and this one I was secretly hoping maybe my hair would magically reverse. I definitely had this hope with my first pregnancy…now that I know my hair doesn't shed but simply miniaturizes, I knew the chances were slim-to-none with this one. Since pregnancy causes most normal women to shed less, pregnancy can help those with hair loss. But, if you have hair like mine that doesn't shed, you're probably out of luck. As if pregnancy wasn't hard enough — a nice consolation would've been if the hair loss improved! I should note, with this pic, I haven't had my hair colored since the last hair loss photo I posted; it's been almost five months or so. The dye definitely helps hair to look thicker, so I'm sure if my hair was freshly colored it would look a bit better.
You know how I feel about my Bumble and Bumble Hair Powder (that link is from Amazon, but definitely check out Bumble and Bumble on Sephora as they have a larger selection) and thank goodness that it's still working its magic.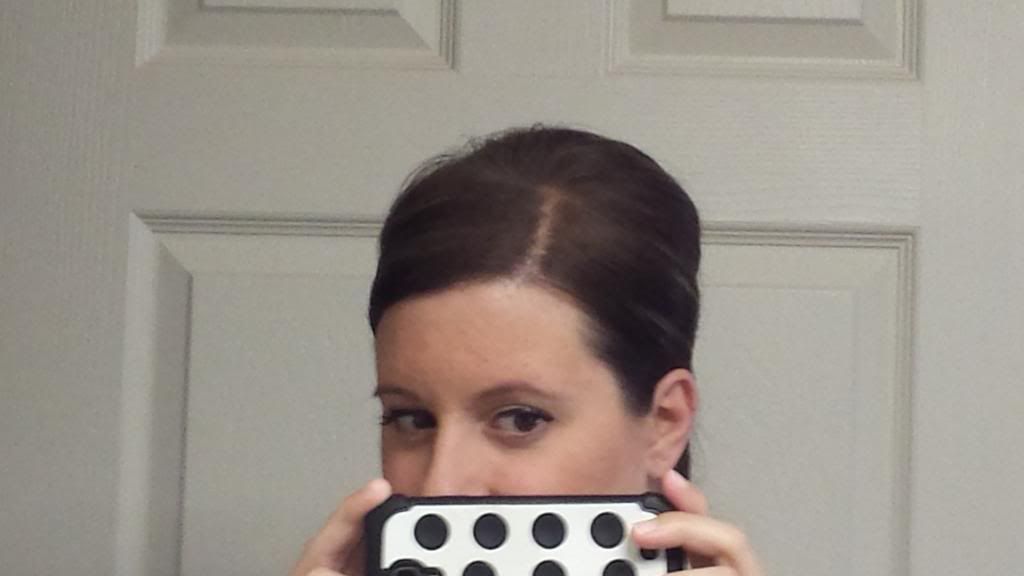 Bless you, hair loss concealers!

Much better, right? Check out how much those highlights are grown out! I'm in for a long road when it comes to pregnancy and hair loss. It will be interesting to see how much worse my hair gets between now and when I'm able to start treatments again. Because I know the worst is yet to come (who else here has experienced the post-partum shed?!) I'm putting together an action plan of how to get through it, which hopefully involves me having better hair than I've had in a long time. Pregnancy and hair loss will be a thing of my past an I'm really excited! Stay tuned!
P.S. Can you all let me know if the pics take forever to load? I'm trying to figure out if I should be resizing them. 🙂